A New Approach To Healthcare
At The Mauldin Clinic of Chiropractic, we address the cause of your pain, not just the symptom. We believe that education is a big part of your success. Call today!
Welcome to The Mauldin Clinic of Chiropractic located at 213 East Butler Road Suite D-2 in Mauldin, SC. We understand that choosing a chiropractor is a big decision. This article will help you learn the basics of chiropractic care. Please don't hesitate to contact our Mauldin chiropractors with any further questions you have. We are here to help you achieve your goals.
Most people believe that chiropractors treat back pain. That is true, but there is so much more that chiropractic care can achieve. Because chiropractors help to remove pressure from the nervous system, they can also influence many other conditions. It is common to hear chiropractic patients say that they came in for back pain and their headaches got better.
The Mauldin Clinic of Chiropractic
We are located at 213 East Butler Road in Suite D2, right across the street from Mutt's BBQ and Glendale Baptist Church in the Butler Ridge office park. Look for the red carpet outside, it is rolled out and waiting to greet you like the VIP you are!
While we love our existing patients, many of whom have been with us for many years, we get truly excited to welcome a new patient that has never been to a chiropractor (even scared) and has never experienced how amazing results with chiropractic care can be.
COMMON CONDITIONS WE HAVE SUCCESS WITH
While we do have success with many conditions, we do have great success with women during pregnancy, children, injuries from an auto accident or fall, many types of headaches including migraines, sciatica, numbness or tingling in the hands or feet. Many patients report sleeping better and waking up with more energy.
Common Symptoms Chiropractic May Help...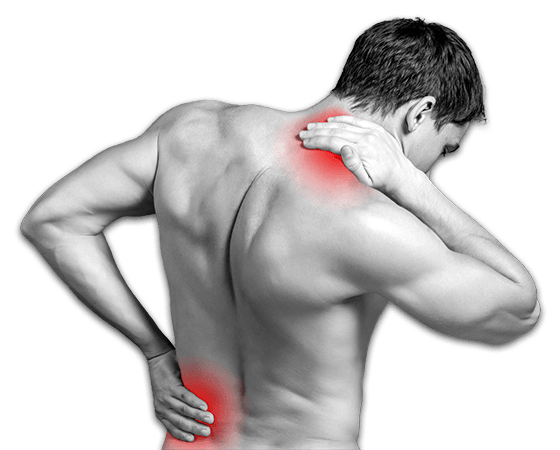 COMMON MISCONCEPTIONS
Scared to hear "popping or cracking" in their spine. Actually that sound you often hear is gaseous pressure (nitrogen) being relieved from the joint. Similar to the sound of a cork popping off a bottle of champagne.
Too expensive. We accept most insurance and offer affordable and flexible payment plans that will fit almost any budget.
How long will this take and do I have to come "forever"? Dr. Eiken offers two types of treatment- relief care for those that just want to come one visit at a time and call us only when it hurts. We also offer treatment plans that are customized for your specific condition.
Will it hurt? We treat patients of all ages, from children to our elderly. It is common for a patient to experience "sore spots" after the first few treatments as we rehabilitate your spine, similar to the soreness you get starting a new exercise routine. We also treat some patients with an instrument, where there is no "popping or twisting" of the neck or back.
SCHEDULE TODAY!
Call our office to schedule your free consultation at a time that is convenient for your schedule and see why so many people love visiting our office!